Necturus sp. cf. beyeri
East Gulf Coast Waterdog

| | |
| --- | --- |
| Synonyms | Necturus sp. cf. alabamensis |
| Origin | USA: AL, FL |
Taxonomy
This species is currently undescribed, and some sources still consider it to be N. alabamensis. However, this waterdog differs markedly in appearance from N. alabamensis. This undescribed waterdog has also been named as N. beyeri.
Description
The ground color is dark brown to almost black. It is heavily spotted above and on the sides, while the belly is unspotted. The body is cylindrical, while N. alabamensis is flattened. Like all Necturus, this species has four toes on all feet and bright red external gills. The young have no stripes and are similar in appearance to the adults. Size is 13 - 20 cm (5 - 8 in).
Range
Found in southern Alabama and the Florida panhandle. The type specimen of a waterdog called N. lodingi was taken from Mobile, Alabama. The name N. lodingi is currently considered to be a synonym for N. alabamensis, but it may be reassigned to this undescribed population.
Habitat
Found in small to medium sized streams with accumulations of leaves along the bottom.
Comments
This is a fairly common species, and they are occasionally seen for sale in the pet trade, often under the names N. alabamensis, N. beyeri, Necturus sp. cf beyeri, and various common names. Captive breeding of this species has been reported; see forum thread.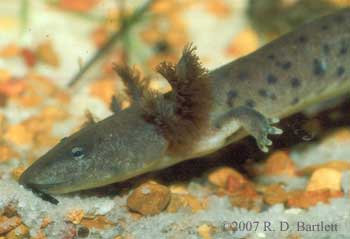 Necturus sp., Mobile, AL.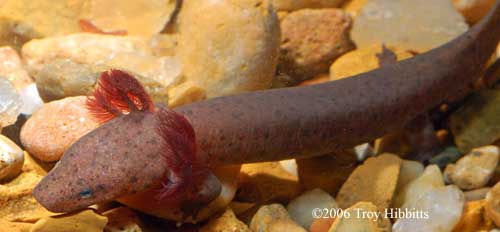 Necturus sp., Florida panhandle.
References
Bartlett, R.D. and P. Bartlett 2006. Guide and Reference to the Amphibians of Eastern and Central North America (North of Mexico). University Press of Florida: Gainesville, Florida.
Bishop, S. C. 1943. Handbook of Salamanders. Comstock Publishing Company: Ithaca, NY.
Petranka, J. W. 1998. Salamanders of the United States and Canada. Smithsonian Institute Press: Washington DC.
---
Text © 2009 Ryan St. Laurent