Hey everyone! First post here. I am honestly really new to the whole forum thing and never really took it seriously,
it's a long post I'm so sorry
. I have a lot of thoughts and I know prolly a lot of people won't read this, nor am I any scientist or expert in any field. I'm just an infowhore really I'm sorry if I come off as a know it all, I just really like to read about this stuff and share knowledge and insights, and I'll try to cite my sources best I can. Enjoy!:happy:
I remember back a couple years ago when I first started getting into herping, I was always fascinated by salamanders. I've always thought of them as "frogs, but better", and those cute eyes and wide smile will always keep them firmly as my favorite amphibians. My first ever was a Tiger, but he ended up croaking a week later- I was bummed. I rarely ever saw them for sale and I happened to find the last one at my local pet shop. It's definitely a species I want to retry in the future.
Fast forward to today, a couple weeks ago, Marbled salamanders were available online, and I didn't even hesitate- I had them a couple days later. I had a 10 Gal that had been cycling for almost 2 years-it was the first official terrarium I had made as an adult. The springtails and pillbugs were thiving, and the whole ecosystem was chugging along-a perfect home...or so I thought
They came in happy and healthy,and as soon as I opened the lid they darted under the oak leaves. I had started feeding them earthworms, pinhead crickets and fruit flies a couple days later, and they accepted the worm offerings.
A week later, I'm chilling playing PS4, and I look over, and one of my Marbled is chilling in front of the tank facing the room, looking out. I thought this was strange as salamanders are usually shady af, plus I have experienced in the past some pets showing themselves more when something's wrong (like my Ateolpus when he was choking on a string of his own mucus
, instantly hopped to the glass in front of me and let me take tweezers right to his mouth to pull the damn thing out) so I went to check him out.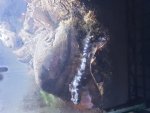 Upon first inspection, He had two big holes, one on his back, and the other right above his hind leg. Red flags went up in my head and I went to the one place I knew could help: Google.
Until then, I knew about Bd (chytrid), the fungal infection that decimates frogs, but I had absolutely no idea that there was a ****ed-up inbred sister of it that kills salamanders: BSal. A fungus related to Bd, Bsal is Kobe to Bd's Shaq, and together they dunk on amphibians worldwide all day [Laking 1].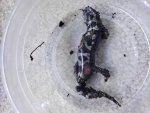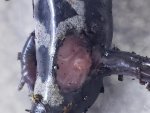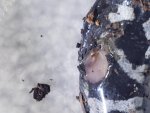 Two days later, it passed.
After researching it, I took no chances. I gloved up, tweezed the body out, and examined it in a dish before I placed him in isopropyl to preserve it. washed everything in a separate bin with 50/50 bleach/water, then disposed of it in a bag.
There is no Bsal in North America, and if it did break out, it would be absolutely devastating to the ecosystem and all of our amazing natives [Gray 2015].
This stuff is
mega-anthrax
to salamanders. Within a short week of exposure, it bored serious holes and caused an excruciating death. It is my fault, and I take complete responsibility. I have let it and y'all down for that.
See, remember the tiger salamander I had? My first official herp. And what was I thinking? "Oh, it'll get bigger and Ill just set up in a 20 when I get to it!" That was the mistake right there-my tiger romped around in there for a week and infected the tank. I forgot where I read it, but I did read that Tigers are subsceptible to Bsal, and my guess is that he carried the Bsal on him, and the stress of the 10 Gal caused the infection to go rampant. He was too big for the little crevices of that tank.
BSal spores can remain infectious for months in water, live and cross land via infected amphibians, and all it takes is one single spore to cause almost certain death. [Grey 2015, MGrey 2017]. Marbled salamanders are still in the trade probably because of the research that prompted the banning of all those species from import. The research concluded that Marbled (Ambystoma maculatum) is one of some species not subsceptible to getting infected with Bsal, with the Eastern Newt (Notopthalmus viridiscens) having almost certain death when infected. [MGrey 2017] (There is one or two other articles you can find that lists more species and the subsceptibility to Bsal, interesting to note some toads and frogs are also known to be carriers of Bsal, although they don't get ill)
With this in mind, it is quite alarming to know that a species of salamander that is considered to be "safe" can be pretty damn subsceptible to BSal. My homie didn't get off the plane before they capped his ***. The other salamander as of now is doing okay, and is actually still lively and feeding, but I remain cautious. I was and still am considering doing a complete sterilization of the tank, as the BSal in there has persisted for almost 2 years, waiting to strike. Overkill? Had I not researched BSal, I would have thrown out the salamander in the trash or flushed it down the drain, right into our waterways, potentially kick starting the next epidemic.
For now, I do want to see if the other dude will persist, although I would gladly take any advice-I do plan to keep more caudates, and even now, I feel treating this tank like it's got a black mamba in it will only get me so far. However, it was my first tank, and the bioactive layer is still thriving. It is straight coir with no drainage at the bottom, and I have tried to remain careful about oversaturation. My mistake in the past has cost me in the future, and now I have a biohazard in my room, and a lesson to learn.
Final note: Y'all are amazing excellent keepers, even if y'all think you're not good enough, y'all are trying, and that's all that's asked for, right? But no matter how good we think we are it cannot be stressed enough: We are bastions in the conservation of animals. As petkeepers, we pique interest in our animals and learn/teach others about them in an intimate setting, and it allows us insight into understanding them more so that we can hopefully save them from extinction. With great power comes great responsibility; we're not just pet keepers, we're animal ambassadors, and it's up to us to always think and establish good habits. Research suggests BSal is mostly spread via the pet trade. It's up to us to defend American salamanders from certain genocide, because all it takes is one spore on one animal to change the entire world of caudate keeping as we know it.
TLDR:
-BSal can be transmitted from salamander to salamander, non-species dependent
-Never release your pets in the wild
-Dispose of your infected stuff in trash and please do sterilize it with bleach or alcohol
-Please don't flush a dead salamander down the drain or bury it; freeze it, then throw it out. Or torch it with some Axe and a lighter
-North America is curently BSal free; let's keep it that way
-Keep more Eastern Newts, because if BSal hits us, MY GOD it'll be a complete massacre
I know this was super long, I love talking about herps and I'm also super crossfaded rn
, but I hope y'all maybe took something out of my whole ordeal. All questions, comments, and advice appreciated. Thanks! Happy Herping!:happy:
-Jonah
Sources
1. Laking, Ngo, Pasmans, Nguyen
B. sal...is the predominant cytrid fungus in Vietnamese salamanders (2017)
https://www.nature.com/articles/srep44443
2. Gray MJ, Lewis JP, Nanjappa P, Klocke B, Pasmans F, Martel A
Batrachochytrium salamandrivorans: The North American Response and a Call for Action.
https://doi.org/10.1371/journal.ppat.1005251
3. MGray, Carter, Bletz, Cusaac, Woodhams, Reinert, Rollins-Smith, Piovia-Scott, Williams, Upchurch, Nanjappa, Miller (2017)
The threat of Batrachochytrium salamandrivorans (Bsal) no North American Amphibian Biodiversity
https://ag.tennessee.edu/fwf/NSF/Documents/Gray_Bsal_AFWA2018.pdf