I recently visited Hunan Province, China to visit my in-laws, attend a wedding and do some sightseeing in the mountains. I visited Zhangjiejie National Park known for their unique mountain formations. Upon visiting nearby Baofeng Lake, there was a map etched into a large rock showing local points of interest. To my surprise, there was a Chinese Giant Salamander Rescue Center down the road from where I was. The party we were touring with included a couple of locals (they don't understand my obsession with salamanders). We stopped where I believed to be the location of the salamanders. There was construction for a new hotel at the site. We stopped at the gate and one of my tour guides inquired about the salamander center. We were informed that there were salamanders on the premises, but it was not open to the public.
One of our tour guides knew of a location of some captive salamanders, so we proceeded to nearby Yellow Dragon Cave, which I had visited on a previous trip some years ago. Outside of the entrance to this cave, they had two captive Chinese Giant Salamanders, Andrias davidianys. Each was contained in their own newly constructed deep round stone enclosure approximately 6 ft. in diameter, resembling a sewer manhole or well. A large steel grid was placed on top with two padlocks. A stream exited the cave feeding the water in the enclosure as well as a large goldfish pool. I would of liked to of seen them held in a larger pool, but evidently they need to be kept secure since they have a high price on their heads as a delicacy in restaurants paying up to 50,000-60,000 yuan ($7,322-$8,787 US) for large specimens. These two were approximately 3 ft. Viewing them was like looking down in a well about 5ft. deep. I apologize for the poor quality of the photos, but it was about 4:30PM and you had to extend the camera down and take photos of them in poor visibility. There is also a tall stone marker stating Giant Salamanders with a lot of Chinese character writing.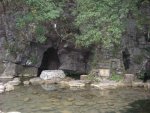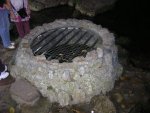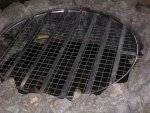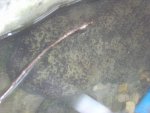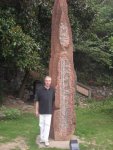 Returning from the mountains, we stopped at a hotel for a college reunion lunch of one of our friends/tour guides. Upon entering the hotel lobby, there was a poster placed on an easel with a lot of Chinese writing, but what struck me was a picture of a large salamander. The worker hosting the lunch informed my wife which translated to me that it is informing the public of conservation efforts for the salamanders. I saw a second poster at the entrance of the dining room where we ate. The Chinese government is educating the public of the critical status of this protected specie. Internet searches have brought up breeding programs to expand their numbers.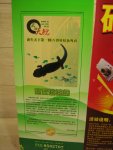 Back to our Chinese home base of Changsha (capital of Hunan Province), I saw another A. davidianys at a reptile side show at Memorial Park. This one was approximately 2 ft. in length and held in a glass tank with an outer glass-viewing window making photography once again difficult.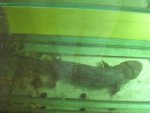 On previous trips, I have seen two other specimens approximately 3 ft. in length housed separately in large tile basins at the Changsha zoo.