Joined

Oct 13, 2018
Messages

2
Reaction score

0
Points

0
Location
Country

United Kingdom
Hi everyone!
I'm gonna try to give you the most informations possible. I'm worried for Gary he (or she) is 3 months old. I got him from a pet store last Thursday ( 5 days ago), I am new to this, never had an aquarium before and they didn't told me about cycling a tank so the tank is actually cycling with him in it.
Only good size stones on the bottom, two little Anubias and one Java fern, 2 fake plant to hide the sponge filter, 2 spots to hide in a 57L tank but I only put 24L of water
I do a water test everyday with a kit, as I saw that he was gasping air more frequently I did a 25% water change ( I do that every 2 days), yesterday readings were:
-Ammonia 0,25ppm
-Nitrite 0,25ppm
-Nitrate 5ppm
-PH 8
Temperature is always between 18-19° and his tail is still curled.
No direct sun no light in the tank only the room light, I live in the UK so it's grey all the time.
Eating normaly. (frozen Blood worms, living Daphnea, Living worms)
What made me ask for help now is that Gary is going up to gasp for air, he usually go back down and try to stay at the bottom but now he's just going up for air giving up on going down and just float at the surface and slowly sinking down. He does that every minute or so I think it's too much what should I do?
Also his gills looks really pale.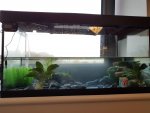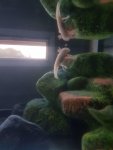 Thank you for your help.