Joined

Jul 11, 2007
Messages

68
Reaction score

1
Points

0
Location
Country

United States
Display Name

Bruno
A friend of mine took a little trip to our favourite trail today while I was busy working. He desided to surprise me by showing up to my house with a gift. Here are some tiny cell phone quality pictures of the ensatina! These will have to do until the original pictures
(of better quality and greater size) are sent to me.
They are both E.e.klauberi. The one on the right is leucistic! The lighting makes it look orange, it's not!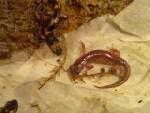 This one is just the female leucistic in better lighting.
My friend will send me the original pictures of when it was discovered (extremely better quality), so I should be able to post them soon. I hope you enjoy the blurry previews though! All credit for finding the animal goes to Oscar Garcia!
This is the first time I've seen or heard of this, please let me know if you've seen or heard of any leucistic ensatinas. For now, I've been telling it that it's one of a kind! (yes, I really do give praise to my animals verbally).
edited by otterwoman: in case the photobucket pictures don't show or are tiny, I have added pictures that he personally emailed me of this animal. Thanks, B!

He writes:
The First are the original two. The third is an intergrade (klauberii X Eschscholtzii) that shows the orange colorations of the montereys in the area. Although, the brighter oranges may be a result from the klauberii's yellow.

Last edited by a moderator: