Joined

Feb 26, 2013
Messages

19
Reaction score

3
Points

0
Location
Country

United States
Hey guys so i just acquired two larval tiger salamanders. i dont know there type though. one has tiger pattern the other has spots. they came from people leaving them to me, they purchased them in my local mall as dinosaur babies.
so one is starting to morph and i plan on keeping them now for sure instead of rehoming them. lucky i own a aquarium shop so i grab some things from the shelf and order a tank. i built a stand, and slap this thing together over the past two days. figure ya'll like to see it.
please let me know what you think an if need changes.
so this is the tank on the new stand i built. the tank is a 36"x18"x24" exo terra. it has a false bottom to allow water under the soil and allow drainage. the two corner have been drilled on the bottom. the right corner drains to a fluval 206 and return on the left with double wide return. this keeps very very low flow and pushed dirt and waste out from under the false bottom. cork bark is the walls of the bottom.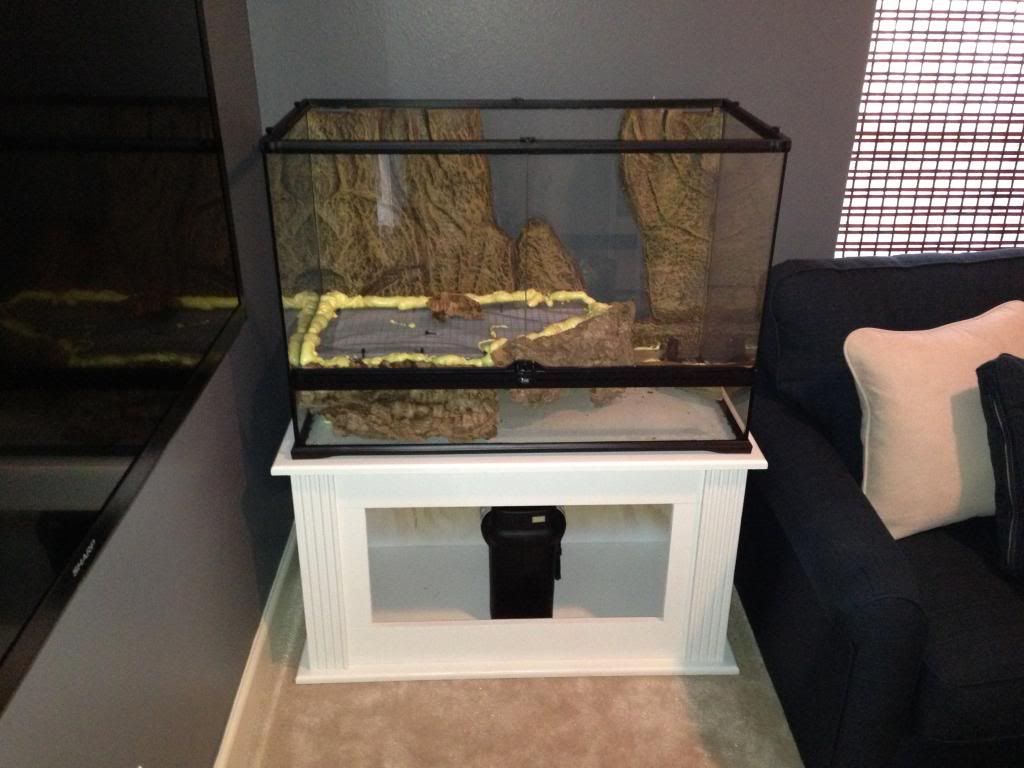 here a better view. the cork has holes to allow the salamanders to hide under the bottom while in there water form. when there ready the cork is sloped to help them out. the background was the original foam insert. i cut it out in one spot and i plan on adding a fern picture. i have the picture i havnt added it yet.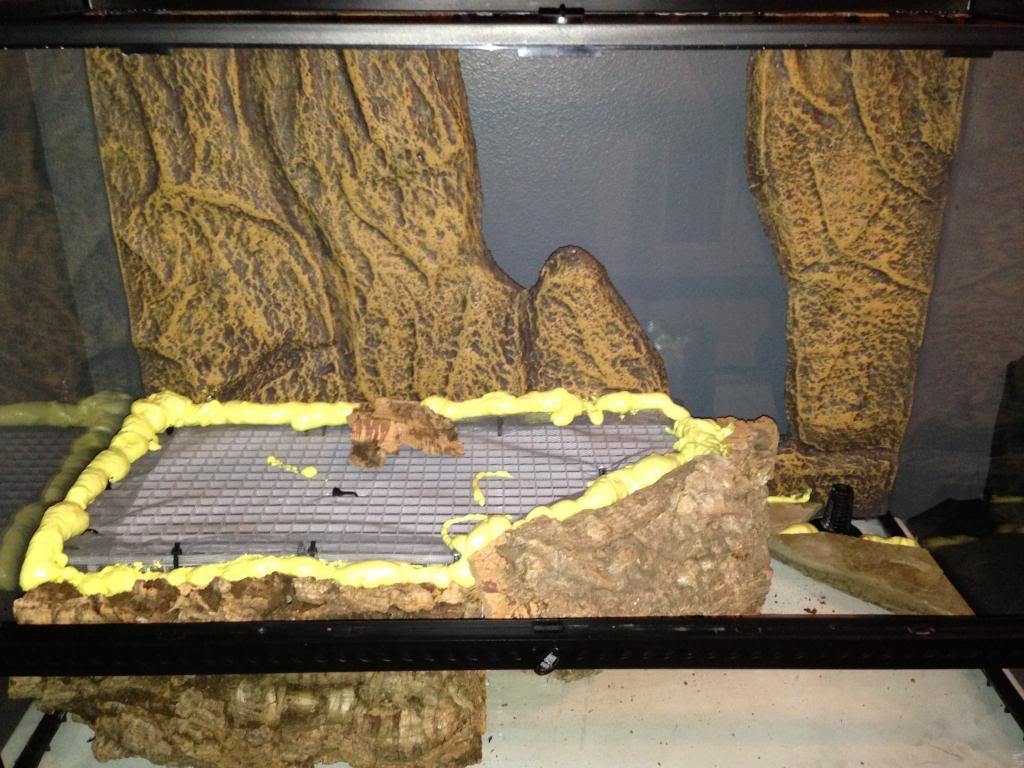 i inserted two plastic stumps. i cut them to arrange them as one rotten tree stump. added mulch and topsoil. sand in the water part. i made a heave slope with alot of dirt and made some tunnels for them. there plenty of dirt left to dig. there also two plastic tree stump hides buried into the soil.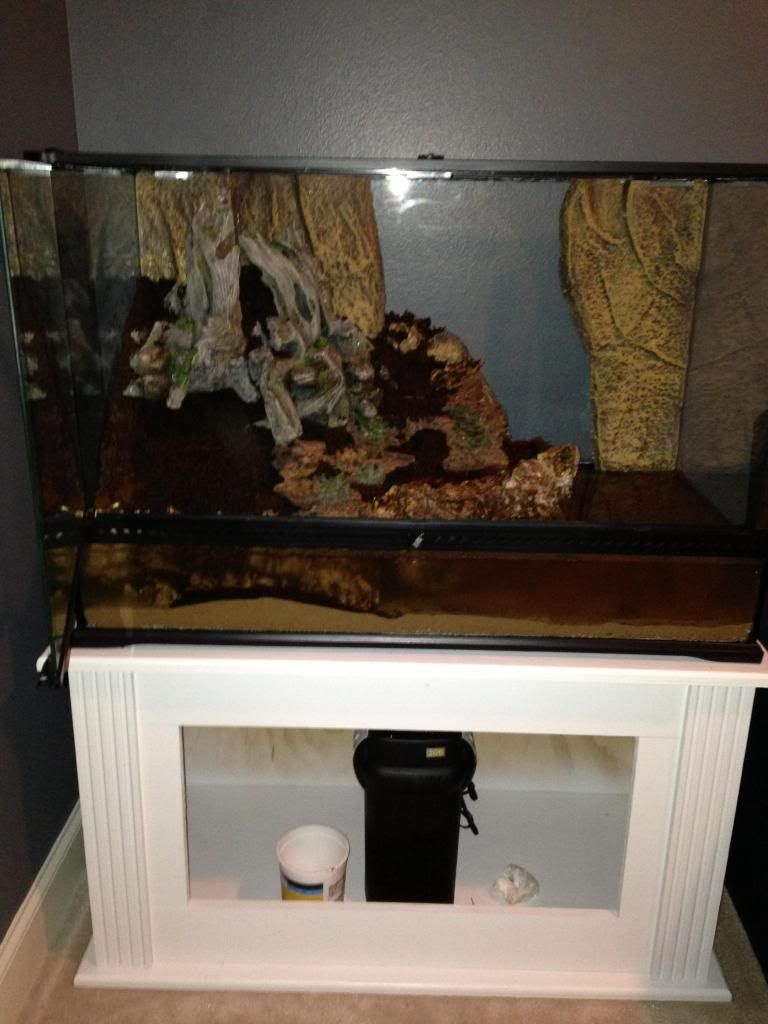 next i came and added plastic plants. and added two LED lights on sunrise/sunset dimming timers.
last i added live plants. live water plants. and alot of moss. plus i added the salamander from there temp 20 gallon. they instantly went under the false bottom and haven't seen them since. : P hopefully they will come out soon. i added a few ghost shrimp for food.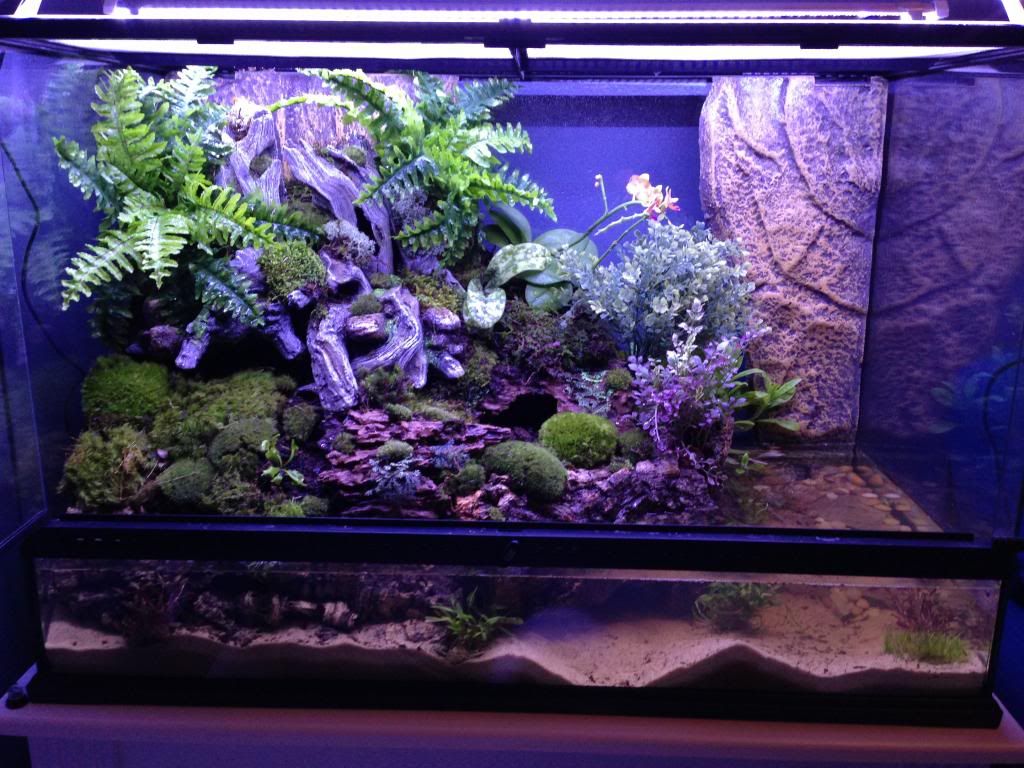 next week one should be on land for sure. she almost done morphing. the other IDK. i plan on adding the background soon. and on the right side foam background im going to add air plants to the top corner.
so what yall think? think they will be happy?