Joined

May 21, 2020
Messages

39
Reaction score

6
Points

8
Location
Country

United States
Hello everyone. In this thread I'll keep track of all the successes, misadventures, and any stories I have while keeping a group of 4 Neuregus crocatus I recently got a hold of. If any of you guys have suggestions, please give em' out to me, it would be greatly appreciated.
This first post does not give the thread a good start..
Last Friday (3 days ago) the 4 juvenile crocatus I bought arrived (after a failed shipment the previous day). I set them up in a 10 gallon aquarium filled roughly half way up with treated tap water (Tetra Water Clarifier). The substrate I had were some small (around the size of an egg) river rocks I got from Lowes. They were dense on the ground, but not dense enough to obstruct the glass bottom. A 10-gallon sponge filter was placed in the corner and the water conditions were up to the requirements. I would put a photo of it here, but I didn't get any at the time.
The lil' noots quickly got used to the setup and seemed to be doing good. Actually, lemme introduce their names: Lane, Fred, Shishkebab, and Crackhead. Here's a horrible photo of em' in the setup before the incident (as you will see soon).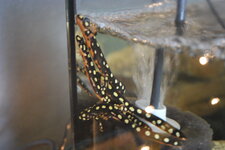 I began feeding them frozen bloodworms and chopped up earthworms to limited success, but then again, I had just got them. One major mistake I made, however, was ignoring the suggestion to clean up any uneaten bloodworms after a few minutes. I don't have much experience with aquatic animals so I thought the worms would just decompose (I also didn't want to fish the worms out between the rocks). But that's the problem, they decompose. I feel like this would be common sense but I guess not to me. So my dumbass left all the fucking worms to rot.
Day after day I realized this was a horrible mistake. The water quality just got worse and worse. I knew I had to deal with it. So today I buckled down and got to work.
But before I could do anything though, I had to get the newts out of the enclosure.
I put them in a tub with wetted paper towels and pieces of plywood for hides.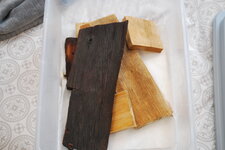 Hopefully I didn't stress the lil' guys out too much, especially considering the fact I was all up in their business last night trying to feed them.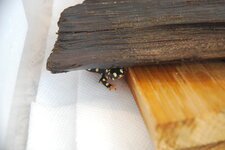 Now that I had the newts secured I went to work.
I first started with cleaning out the sponge filter. Then I took out all of the rocks, and that action alone showed me how bad it had gotten. All of the debris previously hidden away had manifested itself into a wave of foul-smelling, decomposing tissue. I had to remove pretty much 90% of the water. I left some of it to make up for the lost microbiome (which at this point was pretty much just dead worm water).
After replacing the water and putting some rocks in I decided to put in some sand so that I could have an area easier to work with for feeding the newts. By putting in the sand, this of course muddled up the water even more, but at least it's not decomposing worms!
I'm currently running the sponge filter and waiting for the sand to settle before putting the newts back. It'll probably be another hour or so before it clears up enough.
Welp, that's part one of my misadventures with N. crocatus. Hopefully this all turns out well. Wish me luck!
Until then, I'll see you next time folks!
Last edited: