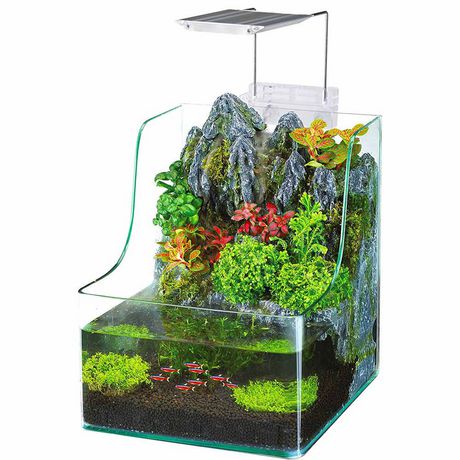 Hello, I recently bought this penplax "aquaterrium" because I had a vision for a nice waterfall paludarium. The picture im posting is what it looks like except I IMMEDIATELY removed all that plastic which takes up too much space. I watch serpadesign on youtube so im going for something more natural with a lot of black lava rock, drift wood, terrestrial plants and aquatic plants!
I have done my research thanks to this website and the 12x13 inch floor space should work for just one chinese FBN or one fire belly toad. The reason im posting this is: is it possible at all to have either of these species in an open top with no lid? It would be kind of difficult trying to fit a lid on curved glass, and there would be a rock waterfall i would somehow have to cover. A lid is a no-go. What could i do to make this work?
Im looking for constructive feedback please not just dismissal.