I've been meaning to have a bash at building an outdoor trough style semi-aquatic enclosure for a while and since my plastic tubs have become brittle and started to crack I made a start.
Here's the wood I used – the container is built from decking boards which should last a few years.
Hey presto! A container with legs. Approx 4ft X 1.5ft
Now, I missed a few photos here because I was too busy trying to get it right. A strong wooden base was built in to the container complete with a slope and a land section. The land section is at an angle so that pipes/hides can be sunk at least 12 inches below the substrate. It's roughly 2/3 water and 1/3 land. I then lined the container with padding and then placed a pond liner in it.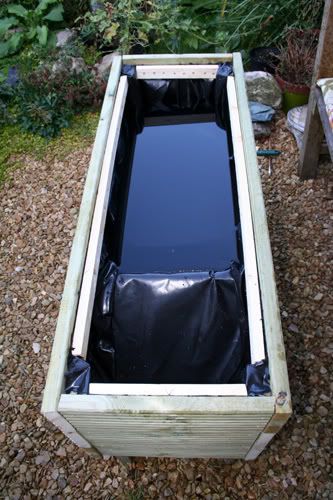 A newt proof lid is added and some wire to stop cats and birds eating the inhabitants. There are drainage holes in the base of the land section and at the high water line in the water section. There'll be some Ambystoma going in here when it's finished and I'll probably let it fill up naturally with rain water over the winter.
I'll post some update shots when it's finished and inhabited.