Hi folks! Hope everybody is doing well.
I've been pulling my hair trying to help my boy Axel out. Let me start from the beginning.
Axel is a salamander; he was given to me by my brother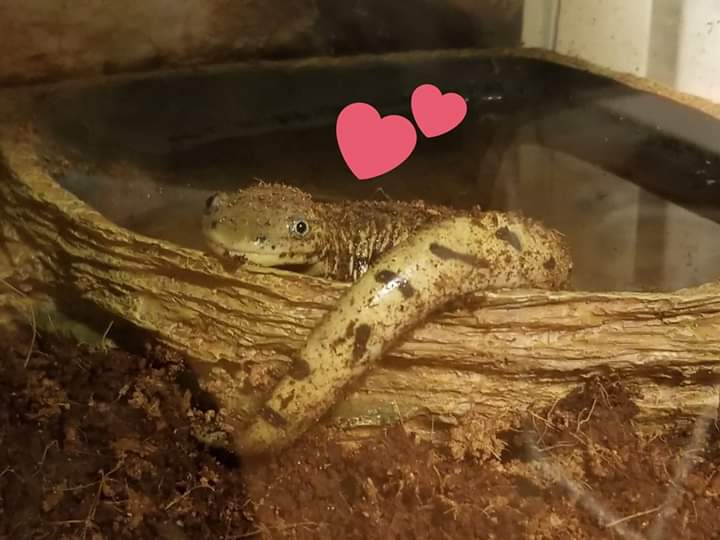 Since very little was known about him when they got him, they did what they could without much knowledge. He was fed bloodworms and his substrate was sand on one end with a filtered "ocean" on the other. Due to adopting 2 human kids, he was given to me, the animal lover of the family. He lives with me now and has for the past year.
His substrate is cypress mulch, he has a humidifier on a timer that runs 12 hours a day, a little dish for a soak, and lots of places to hide.
More updated photo:
But over the last few months, something seemed up. I always would find him on his back.
Note: I use to use coconut fibers but found they got way too soggy
Then today this started.
Click to watch video
I started researching like CRAZY to find him some help. I contacted an exotic vet who advised me to gently massage near his vent and his neck. She believed he was constipated.
She also said to give him some Gatorade so I'm not sure how much I trust her opinion [ahemdumbahem]
Having an iguana in the past with bone issues [Axel is not using his back legs very much] also got me worried maybe it's Metabolic bone disease so I'm currently gut loading some crickets [the only other bug he'll eat. He hates nightcrawlers and earthworms] I did discover his back legs do work on account of him kicking me while I gently massaged his belly. Still, gut loaded crickets are good to have.
Anyway, back to the vet. She directed me here.
Funny enough, I've been using this site for the majority of my research for the past year. Upon closer research, my dumb butt has been feeding him mealworms when I should have been feeding him earthworms, d'oh! Considering their tough exterior, maybe he IS constipated! So I started massaging his abdominal area.
I saw a few suggestions about putting him in the fridge. I remember when my axolotl was constipated last year, I put her in ice water and she pooped out EVERYTHING. I figured since they're closely related, this is a similar idea and I could give it a shot?
I put Axel in the fridge for 2 hours. I wasn't sure how long to keep him in there. I checked on him every 30 minutes. He fell asleep. Once I took him out, I put him back in his tank, and it SEEMED like he was pushing to poop. I could be projecting human attributes to him but I swear it seemed like that.
I saw a post from awhile back with a woman with the same issue and somebody had some suggestions. She never followed up so I have no clue if she had any success. I've also seen advice to give him an oily worm but he's very blah about food right now. He's eating one or two bugs a week instead of the 9 he use to eat.
I'm also scouring the county for an exotic vet and MAN ARE THEY HARD TO FIND. CO-VID 19 does not help matters either.
So I figured I should come here and ask the people who I've been following all along! Maybe they have some advice to help my boy.
Thank you John for inviting me in and thanks all for the great posts that lead me here! I look forward to joining the community.
-Mel
Update: I managed to get him an appt for next Monday. I hope he lasts
((
Last edited: