Joined

Dec 29, 2008
Messages

39
Reaction score

3
Points

0
Age

41
Location
Country

United States
Hi everyone,
I recently had a chance to do over my fire salamanders enclosure and wanted to share how it went.
The tank is a Oceanic 48 gallon. It measures 36 inches in length, by 20 inches in height, and 18 inches wide. I used 100 lbs of crushed quartz (16th of an inch) for my medium. This was washed in a ten gallon bucket until it no longer made the water milky. Part of the tank will have a pond and in this area I used some of my old aquarium gravel which already has benificial bacteria colonized in it.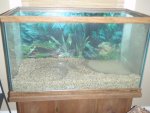 A trusted antherium that I've had for many years and a few piecies of gold spotted pothos were then planted into the gravel bed. I was lucky in finding a solid piece of red maple with its middle rotten. I cleaned this out with a large flat head screw driver and will use it as her main hide. A second hollow cork log was added to give the tank more hides and places to explore.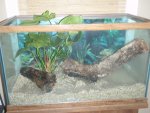 Next I added dried moss which I softened in luke warm water and rinsed 7 times in my bath tub till the water stopped turning brown. This was added over the land portion of the gravel. I finished this off with living carpet moss.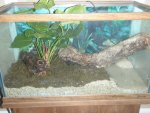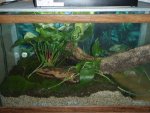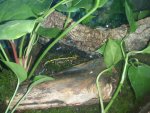 I have 3 panda catfish, 2 cherry shrimp,3 sunkist orange shrimp, 1 tetra and a couple snails in the water area. So far she loves her new environment and I can't wait to get a male to breed her with. Hope you enjoy the pics.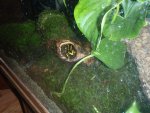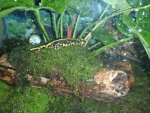 Brian