Joined

Oct 12, 2007
Messages

665
Reaction score

23
Points

0
Location
Country

United States
Display Name

Erin
Hi,
Just wanted to post some updated pics of my paludarium. Here's the original build thread:
http://www.caudata.org/forum/showthread.php?t=56888
It's grown in quite a bit since then... maybe too much
Anyway, here are some shots of the aquatic plants. I'm not really sure what I've got in there (besides the elodea and java fern), but pretty much everything is growing like crazy. I'm in a constant battle with that duckweed. It's super annoying because when the water feature is on they get pushed down and stuck on the aquatic plants where they rot. It's all my husband's fault - he put the duckweed in the tank because he thought it looked 'nice'. Arrrrhhh!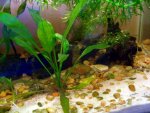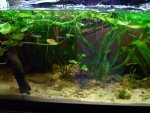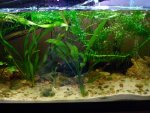 Besides the plants, there are tons of cool freshwater inverts: limpets, snails, at least two types of hydra, some burrowing worms, tons of little copepod type things, and water mites. I haven't been trimming the water plants back much because the females are currently laying eggs so everything is very jungle-y.
Some shots of the top and the 'land' portion, which is tiny. It's basically just a little shelf above that piece of drifwood with a little soil and some mosses and a fern. The other ferns are all epiphytic and tacked to the great stuff background: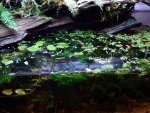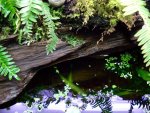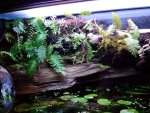 One of the females out exploring, and (I'm assuming) taking a break from the male newt: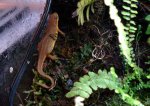 And a blurry shot of the whole thing: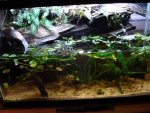 Thanks for looking :happy: