Joined

Jun 26, 2007
Messages

77
Reaction score

4
Points

0
Location
Country

United States
Display Name

Pat
So back in early June my girlfriend and I went on vacation in Florida with her family. We drove down separate, and on the way down we stopped at a mountain destination in Tennessee. The weather was a little warm, mid 80's, but still nice. There had been a few thunder storms the night before on the drive down. (Ohio to Tennessee). The day looked promising though. We started hiking along a nice trail and every now and then we came across a small little seep. It was nice, because at every little seep we hit the temperature dropped to the 60's. And at every little seep we found a few nice little friends. Some how it worked out that every time we were feeling the effects of being very out of shape, a seep would appear. They made good excuses for having to take a minute to take some pictures (and catch our breath).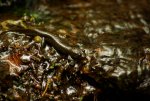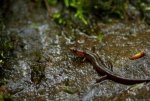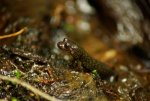 Then we came across a nice waterfall. And this is where I decided to propose to my girlfriend. Fortunately she said yes!!! It would have been a fairly awkward vacation if she had declined.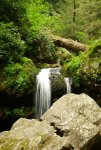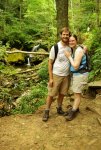 Once we got to the beach in Florida the next day we told her family. And there was rejoicing.
Then the following day on vacation, I got up early and found this little guy guarding our porch.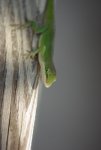 The weather was fairly hot. (90's) And there were storm clouds pretty much every morning. One of the mornings while sitting around the breakfast table, we looked out the window and saw a water spout.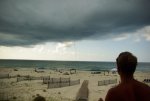 I have seen water spouts before up at Lake Erie, but it was still pretty darn cool to see this one.
We also saw numerous dolphins on our trip as well. We saw atleast 12-15 a day. They would come fairly close to shore. One day we were swimming and few dolphins were only 40-50 feet away. That was pretty darn cool as well.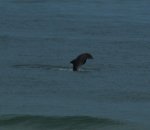 All in all, I think it was a good vacation. Got to do a little herping, got engaged, saw water spouts, and dolphins.