Joined

Jun 26, 2007
Messages

77
Reaction score

4
Location
So I went herping yesterday with two friends of mine and had a pretty darn good day!!!
The weather was wonderful, cool in the morning and warming up in the afternoon. Morning temps in the high 50s F and afternoon temps in the mid 70s F. The skies where clear, the birds were singing, and we were herping.
We were in an non-glaciated part of Ohio. The first spot we came across was a small lake/pond that was teaming with eastern newts.
The newts were feeding on some tadpoles. I have never seen adult eastern newts in the wild, so I was fairly ecstatic. Once my eye was trained to find them, they kept popping up everywhere.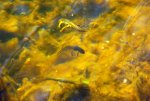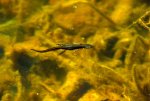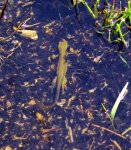 Not to far from this spot we searched for some spring salamanders. At first we kept coming some dusky salamanders, two lined, and long tailed. But finally after searching (even though i say finally, it was only about 15 minutes) we came across a spring salamander larvae. This was exciting for me again, as this was my first time seeing this species as well.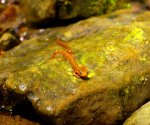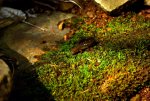 After a bit more searching we finally came across my first adult spring salamander. There were a number of rocks that we lifted that seemed perfect for springs, but we kept finding larvae or duskies. This rock, like the other rocks looked perfect, half in the water half out of the water, somewhat of a large flat smooth. This rock however was home to the adult. After finding the adult we decided to head over to the next spot to find some more springs.
This next spot was a treat, as not only did we find springs, but we also found a red salamander and a mud salamander. Again, the later I have not seen in the wild. (There are a number of herps I have not seen in the wild, as I really go into this a few years ago.) There are a number of other non-caudata critters we came across as well, like some fence lizards, water snakes, queen snakes, and worm snakes. (And wasps!!! be carefully looking under rocks!!! No stings...this time).