I am a first time owner of an axolotl. Her name is Tesla, I've had her for 4 months now. (I'm not sure of her full age, but her fingers just recently turned dark for maturity.)
Anyways, I live in Texas and just recently had to evacuate from Hurricane Laura. (I was not going to leave her behind!) I managed to travel with her while maintaining her stable temperature (64-66) by using a 1 gallon tank/w filter, fan and styrofoam cooler.
- My problem is once we returned home, the house was without power for 10+ days and her tanks water temp was 81-85degrees with no filter running. Once the power came back on I did a half water change and was able to get the temperature stable. I did a 5-n-1 test strip and it looked fine...
After the 4th day of her being back in her tank, I noticed her gills had a white feathery/ fungus look. I had removed her asap and she's back into a temporary 1 gallon tank. I haven't seen any more puffy white stuff since then, it's been about 5days now w/ daily 40% water changes. She hasn't gotten worse, and seems to act normal, BUT Her gills Do Not look the same... they are shortened and loss of filaments!
I am so worried.
-So what had happened to her gills?
-Will she grow them back?
-If so, how long will it take?
-What did I do wrong or how can I help her?
I notice she goes up for air a little more often.
After (now)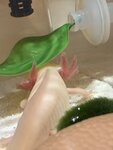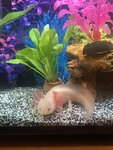 Before