Hi, finally got round to building a new vivarium for my Tigers and am pretty pleased
with the outcome so thought I would come and share.
Made out of the usual furniture board, polystyrene, expanding foam and cement.
The vivarium size is 1000mm x 550mm x 550mm and has ducting on top where the fans and cooling chamber are housed, which I must say works very well indeed, on the left hand side is the exhaust from vivarium which then passes through the 'cooling chamber' where I put ice packs and cool air pulled through by right hand side fan into the vivarium above the pool, with this method I can maintain a steady air temp of around 16/17C whilst room temperature is around 21C.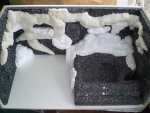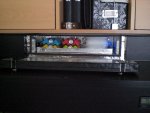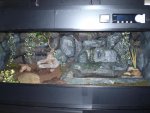 Part of the base of the vivarium was cut out to enable a glass panel to be fitted 1: so I can see where the tigers are (possibly depending on how far down they have dug) and 2: to allow for soil cooling if needed (a tray with some ice packs, I do like my ice packs
).
The pool has a filter/pump (tiny one hidden) which produces a nice little trickle down the rock face where the tiger is climbing and pump is hidden under that pebble disguised panel, there is also a plug in the bottom of pool which is connected to various speedfit plumbing bits and hose pipe underneath the vivarium to enable easy drainage and cleaning all accessible through the removable bottom fascia panel.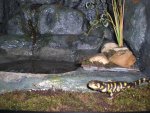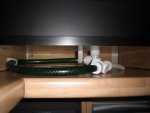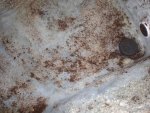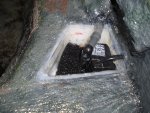 Lighting used are white leds and also a colour changing led for ambient lighting though only very subtle.
Whilst this project was relatively easy it wasn't without problems, mainly leaks, very stubborn leaks
which got sorted eventually with a lots of silicone! It was definitely worth the effort and of course the blood, sweat and tears that went into it.
I have tried to keep it as brief as possible so if there are any questions please ask.