Bolitoglossa pandi
Mushroom-tongued Salamander

| | |
| --- | --- |
| Synonyms | Pandi Climbing Salamander |
| Range | Colombia |
| IUCN Red Book | Endangered |
| CITES | No listing |
| First described | Brame & Wake, 1963 |

Bolitoglossa pandi female
The mushroom-tongue salamander (Bolitoglossa pandi) is perhaps the most enigmatic salamander species of Colombia because it is only known from two specimens from the municipality of Pandi, which is located in the western slope of the Eastern Andes of Colombia. Currently this endemic species is listed by the IUCN as endangered (EN) because its distribution is small, fragmented or fluctuating. Little is known about this salamander, its current distribution, ecology, natural history, or others relevant aspects.
This species was described by Arden H. Brame Jr. and David B. Wake, who in 1963 published a work about the salamanders of South America in which they described six new species of salamanders, including Bolitoglossa pandi. The species description was made from only one specimen, an adult female collected by Wilhelm Fritsche in September 1913, which is currently deposited in the Zoological Hamburg Museum (Germany), in poor condition of preservation. The other known specimen of this salamander, which is in good condition, was collected by Franz Kanston Flórez and José Ignacio Bernal in 2002 at a different locality from the holotype, also in the municipality of Pandi.
Because of this situation, it is necessary to ascertain the conservation status of the species in areas with historical records and places with similar properties in the municipality of Pandi, recording significant information about the ecology, biology, and history natural of this species. It is also necessary to know the threats faced by this amphibian in the assessed areas.
Finally, the implementation of some environmental activities and education will warn the local communities in these areas about the serious crisis being faced by this and other amphibians worldwide, and the urgent need to protect and safeguard this group of animals, for the sake of nature and humanity.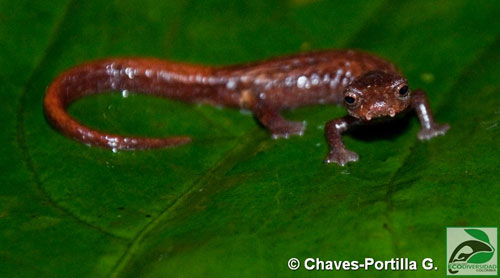 Bolitoglossa pandi male
Bolitoglossa pandi is the subject of a grant funded by Caudata.org. More information about the project is available on the forum: Caudata.org 2009 Grant.
REFERENCES
Brame A.H. & D.B. Wake 1963. The salamanders of South America. Los Angeles County. Mus. Contr. Sci., (69):5-72.
Heyer, W. R., M. A. Donnelly, R. Mc Diarmid, L. C. Hayek y M. Foster (Eds). 2001. Medición y monitoreo de la diversidad biológica. Métodos estandarizados para anfibios: Editorial Universitaria de La Patagonia. Argentina.
Lips, K.R., J.K. Reaser, B.E. Young y R. Ibáñez. 2001. Amphibian Monitoring in Latin America: A Protocol Manual. Monitoreo de Anfibios en América Latina: Manual de Protocolos. Herpetological Circular No. 30, Society for the Study of Amphibians and Reptiles.
---
Text © 2009 GIOVANNI ALBERTO CHAVES PORTILLA, Fundación Ecodiversidad Colombia