Joined

Jan 8, 2011
Messages

402
Reaction score

18
Points

0
Location
Country

United States
Display Name

Jess
So yesterday I randomly decided I was going to go on a day trip to an area east of me that I knew should have a lot of salamander diversity. I've been trying to catch a ruber for quite some time now, and I figured I'd have a good chance at this place. I was pulling off the road to look at seepages and small streams. I got a banged up foot, some broken flip-flops, and a ruined polo shirt.
I was disheartened to say the least. I had only turned up two small desmognathus spp. that I'd seen a hundred times. On another whim, I gave up the seepages and hit a trail. The first rock I flipped had two longtailed salamanders under it, they BOTH got away from me! Luckily I checked the rock again some ten minutes later and one had come back. Within 45 minutes I'd encountered three species I'd never seen before. Coming from Michigan, where salamander diversity is pretty limited, these were great finds for me. They also provided great practice with my new DSLR.
Eurycea longicauda
(Longtailed Salamander)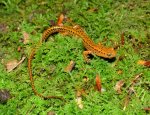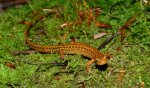 Plethodon glutinosus glutinosus
(Northern Slimy Salamander)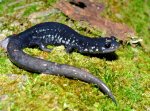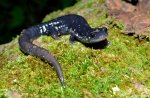 Eurycea b. bislineata
(Northern Two-Lined Salamander)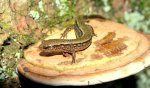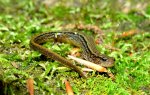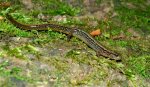 I had a great time and I'll definitely be back to this spot to see what else it holds!