Caudate Families


The tailed amphibians known as caudates make up around 9% of the world's amphibian species. Order Caudata contains 9 families that are mainly distributed across the northern temperate regions of the world where cool and moist environments occur. A small number of species inhabit sub-tropical and tropical regions. The largest density of species is found in North America where 8 of the 9 families are represented.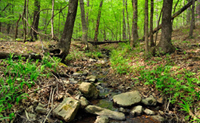 Woodland stream habitat
Photo: John Clare


Members of the order Caudata are commonly known as salamanders but also include newts, a group of species belonging to the family Salamandridae. A large proportion has a biphasic life cycle, starting life as aquatic gilled larvae that later metamorphose into terrestrial adults. Adults usually follow seasonal breeding activity, migrating to breeding sites to court and lay eggs. Caudates are generally nocturnal and forage for food at night. Terrestrial adults generally remain hidden under logs and rocks during the day, while aquatic caudates live on the bottoms of streams or ponds, taking refuge under stones and detritus.

Species Database: Families and Genera

The order Caudata contains nearly 600 species belonging to 9 families. The exact numbers and names of species change as species are discovered or redefined. Recent taxonomic changes are listed in the Taxonomic Revisions page. If you are primarily interested in captive care information, see Caresheets.